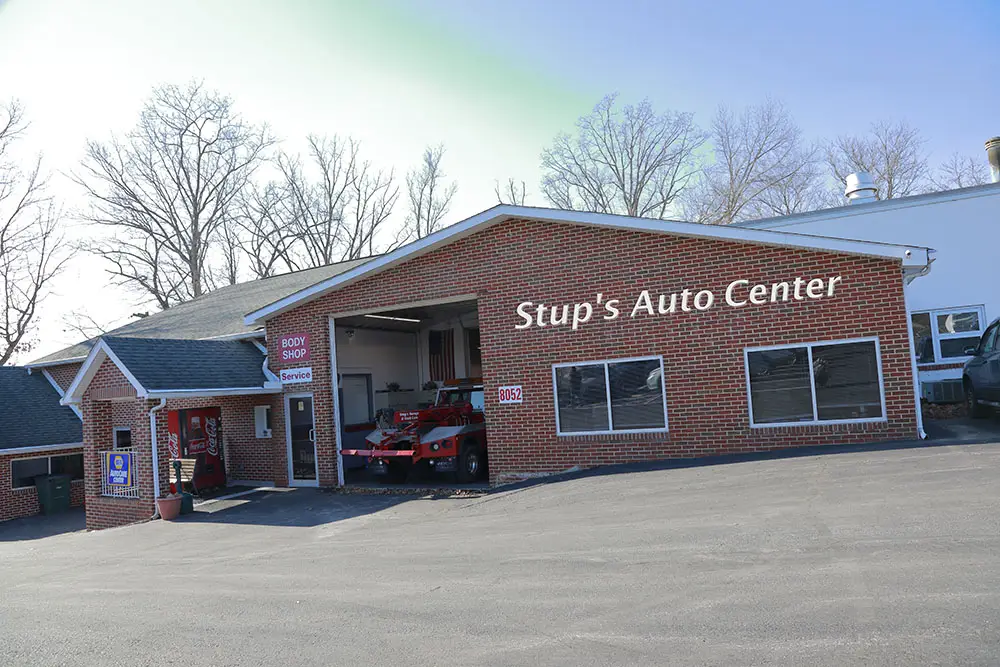 Full-service auto shop in Frederick, MD
For more than 65 years, Stup's Auto Center has been Frederick, MD's first choice for quality auto parts, service, collision center & auto body repair, towing, and salvage. Our commitment to exceptional customer service, each and every time, puts us far above the other guys.
Whether your car just needs one small part or a full post-accident rebuild, the skilled team at Stup's Auto Center can get you back on the road in no time!
Authorized Maryland State Auto Inspections
Before you can register a vehicle in Maryland, it must be thoroughly inspected by an authorized Maryland State Inspection Facility to deem it safe for the road.
At Stup's Auto, we're not only an authorized inspection facility, but our on-site auto repair shop can quickly make any repairs your vehicle may need to help it pass inspection. This gets you back on the road faster, saving you headaches and hassles!
Learn More
What Our Customers Are Saying
Very polite, and highly recommended.
The part to fix my car is part of a larger assembly, that the dealership wanted $600 for. All I needed was the smallest piece, and then I can splice it in. Stup's had it, charged me $20. In & out, no fuss, no mess, no problems. Very polite, and highly recommended.
Bill S.
Great, honest service
Great, honest service. Old fashioned place where they don't BS you. Don't try to up sell you into items you don't need. I had to replace tires on a car I just inherited and the dealer wanted $1300 with alignment. Stup's  said alignment was fine and found a better set of tires for $650. Thank you for your honesty!
Bill C.
I refer my friends to Stup's all the time.
I had been driving a hand-me-down clunker and wanted to get a newer car. Dave had me test drive some of the used cars on the lot. I didn't love any of them, so he sat down with me and asked what I was looking for. He suggested some models I might like and suggested I go to the local dealership to drive them. Over the next month or two, he kept an eye out at used car auctions for the car he knew I'd like. He only bid on cars after looking into their history and checking them out himself. He got me a great car at a reasonable price, accepted my clunker as a trade in, and helped me with all the paperwork.
I refer my friends to Stup's all the time.
John K.
You will get the job done right at a reasonable price
I just got my car fixed in San Diego and it reminded me that I hadn't written anything about this repair shop.  Before I left the DC area in October 2010, I had been going to this place since the mid 1990s to get my car fixed.  They did the job right, and they were always willing to work with you to get the job done with you spending as little money as possible.
If you need your car repaired and you live in the metro DC area, it's well worth the drive to get your car fixed here.  Dave and Richard are very good at what they do. You will get the job done right at a reasonable price.  What more can you ask for?
C M.
Great Service!
I was in desperate need of a gear indicator for my Pontiac, and I needed it by the end of the week for my vehicle to pass inspection.  Luckily, Stup's was able to locate and retrieve it for me.  I dealt with two very nice gentleman who got me what I needed quickly and efficiently.  They managed to make a trip to the junkyard enjoyable and cost efficient!
Lisa W.
Honest and Fair
I brought my daughter's 1997 car in for repair. Where possible, they cleaned up and kept the existing serviceable parts, which greatly reduced the bill. They do not do unnecessary work!! I bring all my cars there! Highly recommend!
John P.
Oil Change
Very knowledgeable and professional
Will R.
Body shop
I have been a STUP's customer for years
Recently Joe in service department and Kenny in the body shop were a great help to me
I give them a high commendation for outstanding help.
– William D.
Have a Question?
Ask the Experts
Please feel free to ask the experts at Stups Auto Center any questions you may have about all of your automotive needs, including how our recycling process works. We are here to serve you the customer, whether local or out of state.
Recently Answered Questions